OTV | Open Television is a platform for intersectional television, with artists and their creative visions at the center. In 2015, our non-profit distribution platform that supports artists and communities marginalized by their race, gender, sexuality, class, religion, disability or nationality began as part of an ongoing research project at Northwestern University. In addition to providing a network of care to foster the entire trajectory of a creative project from inception to release, OTV also offers connectivity, financing, and consultation through education, production and exhibition that empowers our community to create sustainable careers in the Film/TV industry.
TAP INTO A NEW WAVE.
weareo.tv | IG: @weareotv | FB: @weareotv | TW: @weareotv
STREAM INTERSECTIONAL CONTENT VIA THE #OTVAPP:
This is the avenue for OTV creators requesting an update to their content on the OTV app. You may use this portal for requesting updated subtitles, updating names, new cuts, trailers, etc.
⌛️Due to limited staff capacity, please allow for up to 2 weeks turnaround time of response.⌛️
This is the avenue for OTV creators requesting data and stats related to their content on the OTV app. You may use this portal at any time to request information on the performance of your content that is currently distributed via OTV.
At this time, we are able to provide the following video stats:
Community
Total OTV App app members (monthly)
Total OTV App subscriber base (lifetime)
Playback
Total views per video (inclusive of serial content)
Completion rate per video (inclusive of serial content)
Total time watched per video (inclusive of serial content)
Region
Top 3 Regions your content is being consumed (e.g., country)
Platforms
Top 3 platform your content is being consume (e.g. Roku, Apple, Web)
⌛️Due to limited staff capacity, please allow for up to 2 weeks turnaround time of response.⌛️
If this is a time-sensitive request, please complete the form and send an email to Chris Walker at community@weareo.tv.
This is the avenue for pitching and submitting your project to be live-streamed via #OTVapp! Content submitted through this form will be considered for exhibition on the OTV app, non-exclusively. This limited distribution is great for exclusive premieres, one-night only performances, and serialized content such as virtual drag shows or variety performances. OTV staff will review all materials and follow-up with next steps on a rolling basis. Please review the form and provide as much information about your project as possible. Submission does not guarantee exhibition.
⌛️Due to the volume of pitches and limited staff capacity, please allow for up to 2 weeks turnaround time of response.⌛
⚠️ OTV IS NOT A PRODUCTION or FILM FINANCING COMPANY - PLEASE DO NOT PITCH PRODUCTION OPPORTUNITIES THROUGH THIS PORTAL ⚠️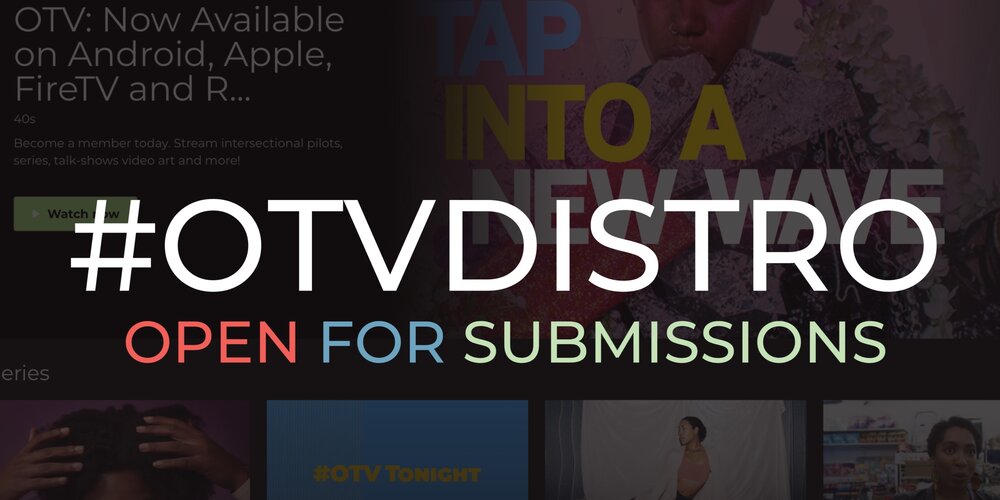 This is the avenue for submitting your project (pilot, series, video art, doc, short-film, etc.) to OTV - Open Television. Completed content submitted through this form will be considered for exhibition on the OTV APP, non-exclusively. OTV staff will review all materials and follow-up with next steps on a rolling quarterly basis.
*Submission does not guarantee exhibition*

⌛️Due to the volume of submissions and limited staff capacity, please allow for up to 1 month turn around time of response. Subject to change based upon staff capacity⌛️

Distribution Process:
Step 1: Submit your completed/finalized content through this portal for non-exclusive distribution.
Step 2: The OTV leadership team reviews content on rolling slate needs basis and follow-up via Submittable. Please make sure the email associated with your submittable account receives emails 🚨🚨from submittable at 'notifications@email.submittable.com' 🚨🚨- and communication does not go to your spam folder. Submittable is how we manage our slate and process all communications.
Step 3: If content (films/series) is approved, Development will follow-up with next steps which are: the licensee fee, legal info, the release strategy and marketing action items.
Step 4: You receive your release date (based upon OTV slate strategy) and marketing kit.
Step 5: Your content is released on the OTV APP.


FAQ:

Is OTV a production company or will OTV produce my script/idea for me? No.

Does OTV pay its artists for content? Yes.

How much? It depends on the current year's slate budget, duration of content and exhibition strategy. If you have decided to pass on the license offer + agreement, and return a following year wanting to accept the same offer - you may not receive the same offer due to the years slate budget. Email Development@weareo.tv, if you have questions regarding your offer.


Can you walk me through the OTV distribution agreement (contract)? Sure thing. HERE is a step-by-step explanation walkthrough video of our Terms.


What does non-exclusive mean as it relates to distribution? You are still free to upload, screen, distribute or sell it to any other entity.

What does perpetuity mean as it relates to distribution? Our contract will not expire until one of the parties [signing artist and OTV] requests for a termination of contract.

Why? We used to offer 3-year contracts, but this burdens our non-profit with an extremely small staff with administrative work. The reality is many creators end up not seeing much monetary ROI in their web series due to the indie nature. We want to avoid having to take down projects because artists are too busy creating their next best work to re-sign while reducing our legal fees for negotiating said renewals.


"The agreement references "Standard Terms & Conditions" but I don't see them included in the document." Standard Terms + Conditions' are on the bottom of the submission page (within submittable) - It's the check box.

For easy access: "Terms and Conditions: *By submitting your project to OTV-Open Television LLC, you agree to the following terms and conditions: Filmmakers must submit their media files as downloadable URL links - 1080P or higher resolution. Do not send your master tape or original. Submission of film constitutes your affirmation that it does not violate any copyright. 'The film(s) may be produced anywhere in the world. Artist hereby grants OTV - Open Television the right to utilize footage, BTS, stills, biographical material, names and likenesses from the film for promotional purposes and in the distribution program. OTV Open Television shall not be held liable for inadvertent errors or omissions as it relates to the submitted work. OTV Open Television and Artist reserves the right to cancel any film releases and remove content."


Section 1(e) "manipulate, edit, modify, add to, incorporate, translate, adapt" (Section 1(c)), and to use the Program "in any manner" (Section 1(d)), and the right to prepare derivative works based on the Program (without notice or consent.) - what would this entail: This is for online social marketing assets, drop trailers (where multiple films are in 1 trailer), app assets (banners, thumb nails), social media promo (instagram post) etc. This clause is in there *only* for marketing purposes and you will receive the marketing assets to share when its been created as well.

Why: Based upon the number of artists and projects we onboard and market - there tends to be a large bottle neck with late responses for approvals which affects our timelines and the artists launch experience. It keeps the process moving and you will receive the assets as well.


What if I have my project on OTV and then I want to take it down and terminate the contract? No problem. You own all the rights to your project and we would be happy to remove it from any channels as you see fit. We can terminate the agreement and pull assets from the app with 14 days, if requested by the artist. You would do this by emailing Development@weareo.tv


"The Grant of Rights in Section 1 states the licenses are 'irrevocable,' yet I have the right to terminate the license/licenses - could you clarify? And I'm a bit confused as to my right to terminate? We can terminate the agreement and pull assets from the app with 14 days, if requested by the artist. You would do this by emailing Development@weareo.tv.

Why: We (historically) do not renegotiate a submitted films license fee once its been onboarded because we pay a one time licensee fee and due to capacity.

Does OTV syndicate shows? Yes, if the artist consents to having their show across a number of platforms. We want to reserve the right to syndicate your show to other platforms. You will be notified every time we syndicate your show and the value of that deal. Any value we get from redistributing your series could be considered a tax-deductible donation to OTV by you. You will have the right to say no to any syndication deal we propose and negotiate directly with our buyer.

Why? Based on surveys of artists in 2020, most of our artists want us to do the work of finding audiences for your series beyond OTV. Indeed, over the years, other distributors have consistently asked us to distribute your content, but since this was not in our contracts, we had to step aside and connect artists directly to these distributors. What we found is that neither OTV artists nor the other distributors -- which tend to be indie like OTV -- had the capacity or interest in negotiating a deal because nearly all of these deals do not pay or pay very little. The goal is exposure. However, if we start to make six-figures or more in syndication you will be notified and allowed to renegotiate your contract at that very time (because you can always take down your show at any time for any reason).


Does OTV provide VOD - 'Videos on demand'? Yes. OTV has options for videos on demand including but not limited to, a one-time public livestream via OTV app (free) or PAY-PER-VIEW (paid) via the OTV APP.

I would like to pitch a Live Stream Idea - how do I do that? Submit your pitch to OTVLIVE, Have questions? Reach out to community@weareo.tv (Head of Marketing + Exhibition)

Are the contracts negotiable? Absolutely. If you have a specific vision for distribution terms or length we are able to customize our contract to reflect what the artist feels most confident with.

Who do I contact if I have updates about my work that is currently on the app if I would like to make changes? Submit a request for update through this portal.

I have an idea for a project and I don't know where to start. We totally understand it can feel daunting at times, here are some resources to help.



I would like to be a part of the OTV Artist Development Programs, how do I get involved? OTV - Open Television offers a number of development opportunities within its programming. OTV programs for exhibitions are expanding year by year. As of 2023, our current artist development offerings include:



OTV is a research-based organization, how can I read the reports?



I have questions about the development process or a project, who do I contact: DEVELOPMENT@weareo.tv
🚨APPLICATIONS CLOSE JANURARY 31st🚨

Instagram Live | info Session - Wednesday, January 17, 2024 Submit your questions in advance HERE to be answered on the LIVE.

Now that OTV Fellows is in its sixth year, we're excited to share that we're taking the program back to its roots. In 2024, our annual fellowship will activate the next generation of intersectional storytellers that are eager to share their bravery with the world.

- Are you currently writing a script?
- Need some motivation to get it completed?
- Seeking critical feedback and a dynamic community?

We got you! This year we are mobilizing storytellers who are currently writing a script and need more intentional time to cultivate their dialog, expand story arcs and build a transformational world for those characters — all while receiving a stipend, mentorship, fellowship and more.
We're making this intentional transition because:

We believe our fellowship should reflect the current needs, trends and experiences of the intersectional communities that we serve.
We believe stories need dedicated time to dream, evolve and take on lives of their own with out the pressure of commercial success.

THE DETAILS:
$5,000 stipend to support Fellow in writing, refining and developing story into a polished script
Up to $500 stipend to develop pitch materials for a 'Pitch, Please!', OTV's pitch competition [to be hosted at the close of fellowship].
One-on-one pairing with a mentor from the Film/TV Industry
Specialized consultation from the OTV Leadership Team, community partners and affiliate organizations
Access to table reads, casting and rehearsal space at a local community space [based in Chicago, IL]
Additional micro-funding opportunities when they arise
Non-exclusive distribution deal on the OTV APP
Lifetime subscription to the #OTVAPP
APPLYING:
You will need to create a free Submittable account in order to submit an application. All notifications regarding your application will reference the email you provide when creating your Submittable account. To ensure you don't miss any critical messages, we recommend that you safelist notifications. Please note, that the application will auto save to a draft.

ELIGIBILITY REQUIREMENTS:

Only valid for 1 writer - not valid for creative pairs/partners at this time.
Submission is limited to 1 project per applicant. Multiple submissions are not accepted at this time.
Applicants must be 18 years of age or older.
Applicants must reside in the U.S. (i.e., the 50 states, the District of Columbia, and U.S. Territories).
Applicants must identify with multiple (2 or more) communities that have been historically marginalized in the film & TV industries because of their race, ethnicity, gender, sexuality, religion, class, disability, and/ or citizenship status.
Projects that are submitted must be in story development phase. Story should have at least 1 draft completed. Your project should be a work in progress.
Scripts must be 10 - 45 min in length. [10 - 45 pages]
Submission may include a treatment [5 pages maximum] - it is not required. We understand this might be a working draft.
Projects must be a web/micro-series, pilot, short film, or video art. No feature-length or long-form (45min - 1 hour episodes) series at this time.
Applicant must be sole writer/creator and own the story's IP.
Scripts must be a narrative or fictional concept. Documentaries are not accepted at this time.

🚨APPLICATIONS CLOSE JANURARY 31st🚨

SUBMITTERS NOTE: You can save drafts of the application in the top right hand of your screen. Additionally, we suggest writing out your answers to the questions in a separate document.

QUESTIONS? For Submittable questions, reach out to Customer Support for more information. For questions related to the fellowship please email, development@weareo.tv or visit, our FAQ. If you have any questions about the application, please email Development@weareo.tv.